June 30, 2021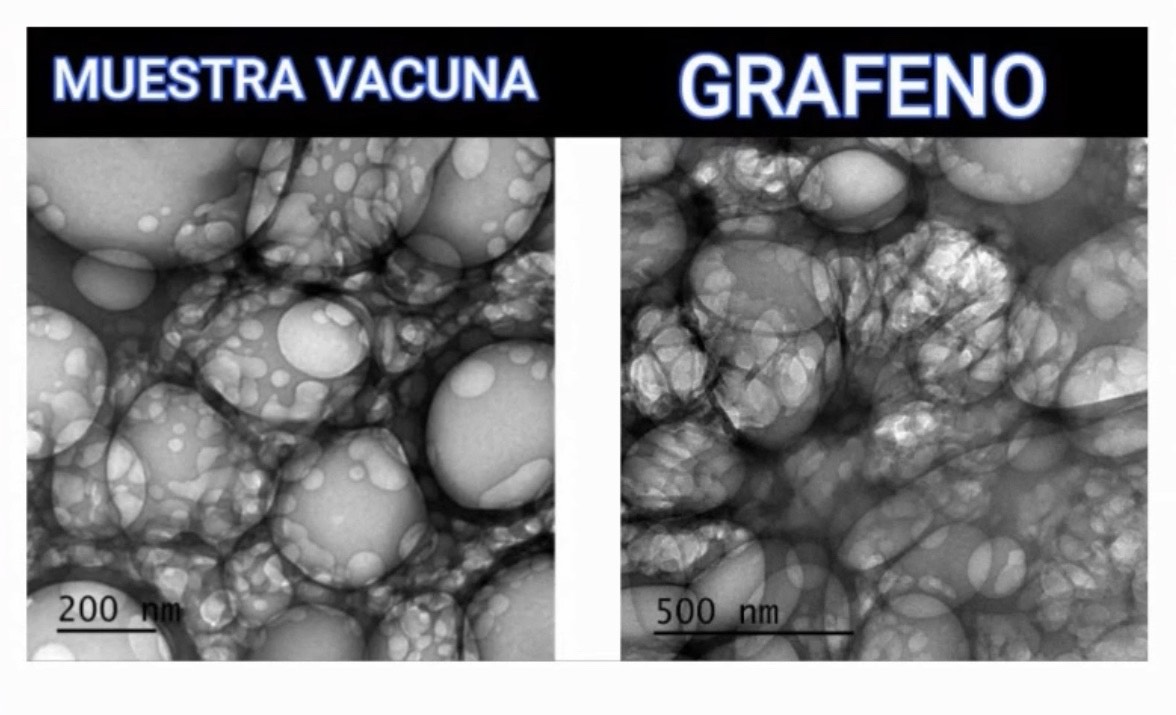 (left, Pfizer vaccine; r. Graphene)
Spanish researchers put the Pfizer vaccine under an electron microscope and found it contains 99% graphene oxide and hardly anything else.
Related– Covid Vaccine Delivers Nanoparticles for Mind Control

by Des Marxants
(henrymakow.com)
The whole world is following the story released on the Spanish web site program la Quinta Columna.
A June 28th report from the University of Almeria (in Spain) supports the findings of the two researchers hosting the daily broadcast.
Surprising conclusions on the first results of the microscopy on one covid-19 mRNA Comirnaty (Pfizer) sample.
Suspicions of the two researchers turned out true. There is almost NO Biological matter in the Pfizer covid-19 vial. What the lab in the University of Almeria found has nothing to do with mRNA. The main matter found was a substance more alike to nanoparticles of graphene or a very similar nanomaterial. Extraction and quantification of mRNA in the sample, identified that 99% of the whole substance inside the vial was highly probable graphene oxide or something very similar, just very few genetic material was found.
Until now, no lipid nanocapsules were identified
The study mentions that there is a reduced form of graphene oxide (GO) when graphene oxide is mixed with hydrogen it becomes MAGNETIC (MGO) it is also known as reduced graphene oxide (this happens when it is injected blood too)
Graphene oxide layers from scientific literature and from a commercial graphene oxide sample compared against the microscopy performed on the Pfizer sample show identical patterns in both electron and optical microscopy, letting no gap to doubts we talk about the same material.
The study offers solid evidence of possible graphene derivatives because the structure saw in the microscopy is characteristic. Academics who previously worked with graphene oxide were consulted and agreed there is no doubt about the presence of graphene oxide in the vial.
The study was required by Biostatistician Ricardo Delgado this contrasts a graphene oxide sample bought in the market against covid-19 Pfizer mRNA Comirnaty. This preliminary study includes optical and electron microscopy conducted by Prof. Dr. Pablo Campra team director in charge. Digital signature here.
It has been only one brand jab but more tests are needed to be done with other vials. More studies are to come with some other different technics. La Quinta Columna makes a call to other institutes and universities to join this research crusade for the truth.