I Would Say to Thank Satan's Servant, David Rockefeller For The Concoctions from Hell. God says your body is the temple of the Holy Ghost. An mRNA vaccine (gene therapy) just might change a person to something different than that. No Thanks, Franklin. Be sure to say Hi to your buddies at your daddy's Masonic Temple.
Franklin, how about thank Satan's children for big pharma with their concoctions from hell. Big Pharma was started by David Rockefeller, a globalist.
Franklin's dad, Billy was a high level Mason and you know who that was. The Bible never says to accept Jesus as your Saviour. It does however say he who believes is SAVED.
Jesus said, "Except ye believe that I AM HE, ye shall die in your sins."
For God so loved the world, that he gave his only begotten Son, that whosoever believeth in him should not perish, but have everlasting life. For God sent not his Son into the world to condemn the world; but that the world through him might be saved. He that believeth on him is not condemned: but he that believeth not is condemned already, because he hath not believed in the name of the only begotten Son of God.
Is Jesus Christ God, the creator? The answer is YES. Colossians 1:16 For by him were all things created, that are in heaven, and that are in earth, visible and invisible, whether they be thrones, or dominions, or principalities, or powers: all things were created by him, and for him: And he is before all things, and by him all things consist. (How could he have been before all things unless even though he was born 2,000 plus years ago, he is also the creator of everything, therefore he is God Almighty. Jesus has always existed. He has no beginning and no end. He is God.
For unto us a child is born, unto us a son is given: and the government shall be upon his shoulder: and his name shall be called Wonderful, Counseller, The mighty God, The everlasting Father, The Prince of Peace. Of the increase of his government and peace there shall be no end, upon the throne of David, and upon his kingdom, to order it, and to establish it with judgment and with justice from henceforth even for ever. The zeal of the LORD of hosts will perform this
It is not a vaccine, there Franklin. If it was, we might take it. It is a gene therapy and it is a medical trial being done on the entire world. My Body – My Choice and I choose NO.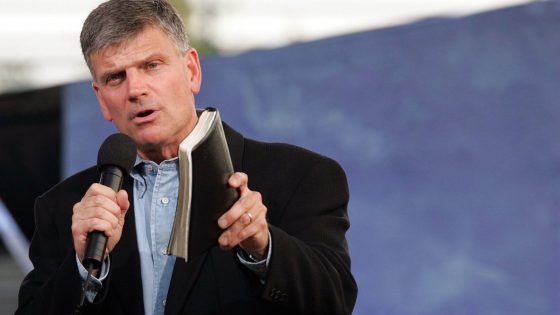 Evangelical Pastor Franklin Graham is urging his followers that remain "vaccine-hesitant" to roll up their sleeves and take the experimental gene therapy jab. Graham is attempting to convince fellow evangelicals to get the shot saying: "Thank God for vaccines."
Graham has suggested that modern medicine is an extension of Jesus Christ's healing ministry. Graham, who is president of the Billy Graham Evangelistic Association and aid organization Samaritan's Purse, spoke to CNN's Wolf Blitzer on Monday and urged those skeptical about the vaccine to just turn off their minds, stop thinking, and accept it. No wonder CNN willingly gave him air time.
Vaccine hesitancy (although at this point, it should be called vaccine refusal) is not confined to the evangelical community. A recent Pew Research poll showed that 45 percent of white evangelicals said they would not get the vaccine.
"So what's your message to fellow evangelicals who are still very hesitant to get this potentially life-saving vaccine?" Blitzer asked.

"First of all Wolf, I think a lot of this is changing – these attitudes," Graham said.

"When Jesus started his ministry, he went about preaching and he used his power as the Son of God to bring healing to people's bodies. (My emphasis) Too many people have gone to hell because they did not believe the absolute fact that Jesus Christ is not only the Son, but he is God himself. He is the Father, the Son and the Holy Ghost).

"And he didn't do it so they'd have a better life. He did it so they'd put their faith and trust in him as the Son of God. And as a Christian, I think it's important that we model our ministry after that of Jesus Christ. We want to try to bring healing to people's bodies, and we can do that through modern medicine." –Newsweek
Healing? Is that what this "vaccine" is bringing to people's bodies?
"Vaccine" Side Effect: COVID Arm
Another Possible Side Effect Of COVID Vaccines: Herpes
COVID Czar Admits The Vaccine Has "Significant Side Effects"
More COIVD-19 Vax Deaths: Think They'll Blame This On COVID-21?
Graham said he would be happy to work with the Biden administration in order to encourage people to take the "vaccine". He has been a strong supporter of former President Donald Trump but said he hadn't spoken to Trump about whether he would also publicly encourage taking the vaccine. "I would encourage the president … There's no downside for him to do this," Graham said. "I think it'd be a very easy thing and I might try to get a hold of him even tonight and say something to him."
The propaganda is intensifying, folks. We all knew this was going to happen. Stay prepared. What's next could be anyone's guess. This "vaccine" is obviously a part of the overall agenda, and to what extent remains to be seen. Keep using your critical thinking and discernment.
Medical Journal: Get The COVID-19 Vaccine, Or Be Punished HARSHLY